Camp Jack Hazard Benefit Concert to Feature Two Groups with Oakdale Roots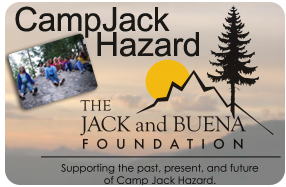 Folk/pop musician Brett Dennen is coming back to Modesto for the 2nd annual Camp Jack Hazard Benefit on March 16, along with another up and coming group native to Oakdale called The Good Luck Thrift Store Outfit.
Brett Dennen is donating his time and talent for the second year in a row to perform at this benefit concert to support Camp Jack Hazard, a favorite childhood summer destination for himself and many in the Central Valley. The members of bluegrass and folk music group The Good Luck Thrift Store Outfit are childhood friends of Brett and are joining him in support of the camp.
For decades, Camp Jack Hazard has offered many kids their first wilderness experience, and only a couple years ago it looked like the camp may not be able to remain open. Many of the camp's former attendees have banded together to keep the camp accessible and open so Central Valley children can continue to enjoy this summertime adventure, said Jason Poisson, co-founder of The Jack and Buena Foundation and a former camper.
The Jack and Buena Foundation is the main sponsor of the event and all profits earned will go toward improving Camp Jack Hazard's facilities and sponsoring children who otherwise would not be able to go.
"We're really excited about the great feedback we got from last year," Poisson said. "The benefit will be in the larger theater at the Gallo Center this year and tickets are already selling well."
Last year, the camp benefit was held in one of the Gallo Center's smaller theaters. Due to the positive response to the 2012 benefit, this year it will be in the Mary Stuart Rogers Theater at the Gallo Center to accommodate more than 1,200 people.
Ticket prices range from $30 to $70 — the prices have been slightly adjusted from last year's tickets to ensure more former campers can attend and show their support. Tickets for premium seats that include a catered, VIP meet-and-greet before the show with Brett Dennen are $100, and these are already selling quickly.
Event info:
Camp Jack Hazard Benefit featuring Brett Dennen and The Good Luck Thrift Store Outfit
Saturday, March 16 at 7 p.m.
VIP reception at 5:30 p.m.
Gallo Center for the Arts, Mary Stuart Rogers Theater, 1000 I Street, Modesto
Buy tickets
About The Jack and Buena Foundation:
The primary goal of The Jack and Buena Foundation is to ensure that Camp Jack Hazard continues providing life-changing experiences to Central Valley youths for years to come. In the last three years, the foundation has helped 75 kids attend camp. In May 2011, the foundation began to rent and run the camp and is now focused on creating a sustainable summer camp.