Client Spotlight: Eureka Trading Company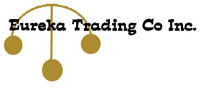 Pawn shops have had an interesting change in public perception in recent years. Once thought of by Hollywood as shady locations, they are now seen in a more favorable light thanks to popular TV shows like Pawn Stars. But no matter what public perception currently is, Eureka Trading Company has always been a highly reputable and locally owned business. Owner Alan Nielsen takes pride in the outstanding customer service his business provides.
This Eureka pawn shop does more than just offer pawn loans to those in need — it buys and sells all kinds of merchandise from Humboldt County residents, including power tools, musical instruments, bicycles, TVs and jewelry.
Many of the customers that come into Eureka Trading Company are curio seekers looking for unique collectibles or bargain hunters. There's a wide selection of eclectic and collectible merchandise at Eureka Trading Company that is always changing, which keeps customers coming back regularly.
Eureka pawn shops must comply with federal, state and local regulations, and Eureka Trading Company works with the Humboldt County Sheriff's Office to prevent stolen property from making its way to the sale floor.
Visit the Eureka Trading Co. storefront on the corner of 4th and D streets in Eureka, or check out the pawn shop's eBay store.