Client Spotlight: Redwood Coast Financial Partners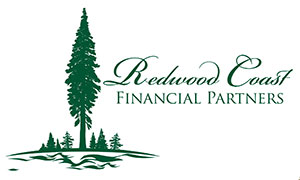 The Boy Scout motto is nowhere more relevant than in financial matters. However, to "be prepared" in the face of all fiscal potentialities is far more complex than any motto. The mercurial nature of markets, the diversity of options, the inevitability of the unforeseen — these all make financial preparedness an endeavor that requires expertise. That kind of expertise can be found in the offices of Redwood Coast Financial Partners.
There you will meet and consult with Nick Bertell and Steve Suttell, financial advisors and purveyors of financial planning expertise. Nick is a graduate of Humboldt State University, with a Bachelor's Degree in Business Administration, and Steve received his BA in Economics from the University of Montana. Together they can create a confluence of your funds and your plans while ensuring long-term security for your financial profile.
Nick and Steve have said, "Financial Planning is a road map to retirement and beyond." Like all road trips, the destination is only part of the equation. Whether speedy arrival or a scenic route is the interim objective, the route has to be chosen accordingly. Nick and Steve have established a six-step course selection process that works for every financial planning case: define (scope of relationship), gather (financial information), analyze (specific situation), develop (multi-faceted investment approach), implement (invest the money available as determined), and monitor (to keep the financial plan on course and the money growing as desired).
Whether it is retirement planning for a relatively distant future or financial management for current fiscal operations, Nick and Steve should be your first choice as financial advisors, and Redwood Coast Financial Partners your financial planning home – right here in Humboldt County.