Clif Bar & Company Chef to Cater VIP Reception with Brett Dennen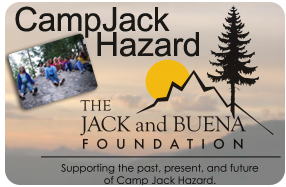 Former camper and current chef for Clif Bar & Company has donated his services to cater the VIP meet-and-greet with musician Brett Dennen at the 2nd annual Camp Jack Hazard Benefit Concert on March 16 to support one of his favorite childhood locales.
Folk/pop musician Brett Dennen will be headlining the benefit concert at the Gallo Center for the Arts, with local favorite The Good Luck Thrift Store Outfit providing the opening act. For a lucky few who pick up the limited VIP tickets to the event that include premium seats, Clif Bar & Company executive chef Scott Erickson will personally cater the pre-show reception where they will meet Dennen.
Camp Jack Hazard has special meaning to Erickson — he started going to the camp when he was 10 years old. He kept coming back and eventually became a counselor and leader, and he now sits on The Jack and Buena Foundation board of directors, the nonprofit organization that continues to keep the camp open for Central Valley youths to enjoy.
"I really enjoyed the high adventure aspect of the camp — Getting to do these things I love to do in an awesome setting with great counselors," Erickson said. "I also worked in the kitchen, and that helped me realize how much I enjoyed cooking. It helped point me in the direction that lead to my career."
Clif Bar & Company opened its corporate cafe for employees and their guests about three years ago at their Emeryville offices, and Erickson has since served as its executive chef. The company pays employees as a part of their salary to volunteer, so Erickson will be using his volunteer time to provide finger foods, sandwiches and other treats for the meet-and-greet. Clif Bar & Company also allows its employees to donate 1,000 Clif Bars to a nonprofit of their choice, and Erickson sends his allotted amount to the campers every year.
The benefit concert was created to support the camp, which just a few years ago was about to be closed. That is why former campers banded together and created The Jack and Buena Foundation.
"It would be tragic if the camp just went away," Erickson said. "I think we all want to send our kids there someday."
Ticket prices range from $30 to $70 — the prices have been slightly adjusted from last year's tickets to ensure more former campers can attend and show their support. Tickets for premium seats that include Erickson's catered, VIP meet-and-greet before the show with Brett Dennen are $100, and these are already selling quickly.
Event info:
Camp Jack Hazard Benefit featuring Brett Dennen and The Good Luck Thrift Store Outfit
Saturday, March 16 at 7 p.m.
VIP reception at 5:30 p.m.
Gallo Center for the Arts, Mary Stuart Rogers Theater, 1000 I Street, Modesto
Buy tickets here
About The Jack and Buena Foundation:
The primary goal of The Jack and Buena Foundation is to ensure that Camp Jack Hazard continues providing life-changing experiences to Central Valley youths for years to come. In the last three years, the foundation has helped 75 kids attend camp. In May 2011, the foundation began to rent and run the camp and is now focused on creating a sustainable summer camp.
About Clif Bar & Company:
Clif Bar & Company is a leading maker of nutritious and organic foods and drinks, including CLIF® Bar energy bar, LUNA®, The Whole Nutrition Bar for Women®; and CLIF Kid®, Nourishing Kids in Motion®.  Focused on sports nutrition and healthy snacks, the family and employee-owned company is committed to sustaining its people, brands, business, community and planet. For more information on Clif Bar & Company, please visit www.clifbar.com, check out our Facebook page at www.facebook.com/clifbar and follow us on Twitter at www.twitter.com/clifbar.