Content Development: Work the Holidays into Your Blog Posts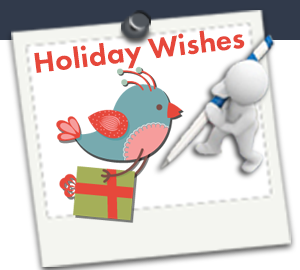 'Tis the season for customers to have the holidays on their minds. Get your business in the holiday spirit, too, by planning your holiday-themed content now, while you aren't as inundated. Write your blog posts ahead of time if possible, or at least the blog topics.
Online retailers can create gift lists by category to help out their customers, such as "Gifts for Your Mom" or "What to Get the Man Who Has Everything." You can spotlight your products while helping your customers find the perfect gifts for the people in their lives. Depending on the products you have, you can also offer creative wrapping tips or special ways to surprise the recipient.
If your business doesn't sell products directly to consumers, just consider what kind of information would be useful to your target audience this time of year. Accountants or payroll professionals could discuss upcoming January tax deadlines and year-end bonuses, while auto mechanics would be better off highlighting winter travel tips and encouraging coolant flushing.
Whatever topics you choose, it's possible to do too much. Work in a mixture of information and promotional blog posts, like you normally would, and don't feel compelled to make them all holiday-themed. You shouldn't have to stretch too far to work the holidays into your blog posts. If you have to force a seasonal tone, then skip the theme and just create a quality article.
But can you mention specific holidays like Christmas or Hanukkah? It depends on your target audience. While some people prefer generic words like "holiday" or "winter season," others would rather you just specify what you're talking about.