Good Luck Thrift Store Outfit to Perform New Songs for Benefit Concert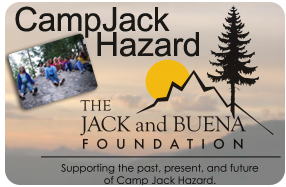 The Good Luck Thrift Store Outfit will bring their unique sound back to their home turf on March 16 as the opening act of the 2nd annual Camp Jack Hazard Benefit Concert in Modesto CA.
This Oakdale native band will be performing songs from their new album "Old Excuses" to raise money for The Jack and Buena Foundation, a nonprofit organization that supports a local summertime favorite, Camp Jack Hazard. After working on new material for their third studio album for over three years, members of The Good Luck Thrift Store Outfit are looking forward to showcasing their Kickstarter-funded album in their home county for a good cause.
Members Chris Doud, Taylor Webster, Willy Tea, Matt Cordano, Aaron Burtch, and Chandler Pratt will be opening for childhood friend and established folk/pop musician Brett Dennen. Both Dennen and The Good Luck Thrift Store Outfit are donating their time and talent for the benefit concert, and this will mark the first event where the two groups have performed together.
The concert will benefit Camp Jack Hazard in the Central Valley, a well-known summer destination that provides many kids with their first wilderness experience. A couple years ago, it looked like the camp may not be able to remain open, so many of the camp's former attendees banded together to keep the camp accessible and open, said Jason Poisson, co-founder of The Jack and Buena Foundation and a former camper.
"We wanted to try a new opening act from last year's event to create a new product," Poisson said. "Unlike Brett, The Good Luck Thrift Store Outfit is a full-on band and they play bluegrass, country and rock. They're really fun and they're just a great group. They've been around locally longer as well, so they have a strong local following and pull for the event."
Last year's 1st annual Camp Jack Hazard Benefit Concert featured Brett Dennen with his brother Nathan Dennen as the opening act in one of the Gallo Center's smaller theaters. Due to the positive response to the 2012 benefit, this year the benefit performance will be in the Mary Stuart Rogers Theater at the Gallo Center to accommodate more than 1,200 people.
Poisson said The Good Luck Thrift Store Outfit will be inviting their young children to attend the performance to show support for the camp and enjoy a great night of family-oriented entertainment.
Ticket prices range from $30 to $70 — the prices have been slightly adjusted from last year's tickets to ensure more former campers can attend and show their support. Tickets for premium seats that include a catered, VIP meet-and-greet before the show with Brett Dennen are $100, and these are already selling quickly.
Event info:
Camp Jack Hazard Benefit featuring Brett Dennen and The Good Luck Thrift Store Outfit
Saturday, March 16 at 7 p.m.
VIP reception at 5:30 p.m.
Gallo Center for the Arts, Mary Stuart Rogers Theater, 1000 I Street, Modesto
Buy tickets here: http://tickets.galloarts.org/single/eventDetail.aspx?p=3334