HealthSPORT to Hold Zumbathon Fundraiser for Local Multiple Sclerosis Chapter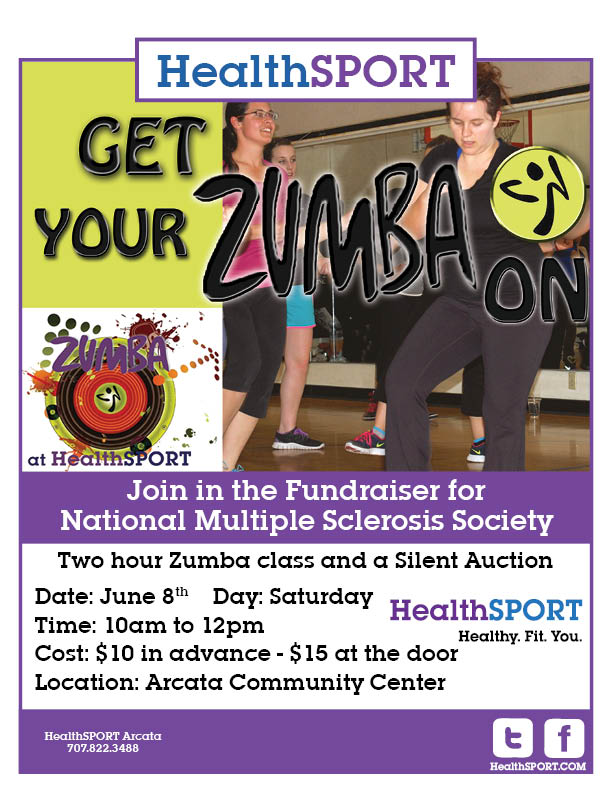 HealthSPORT will hold its first Zumbathon of 2013 at the Arcata Community Center on June 8. HealthSPORT is asking local businesses to contribute to the National Multiple Sclerosis Society's Northern California Chapter (NMSSNCC) for this event.
On June 8th from 10am-noon, HealthSPORT will hold a two-hour Zumba class and a Silent Auction at the Arcata Community Center with HealthSPORT instructors and instructors from our surrounding area. Tickets are $10 in advance and $15 at the door. For more information about the Zumbathon, visit healthsport.com and for more information about the NMSSNCC please visit http://www.nationalmssociety.org/chapters/CAN/index.aspx.
Multiple sclerosis is a chronic, often debilitating disease that attacks the brain, spinal cord, and optic nerves. The progress, severity, and specific symptoms of MS are unpredictable and carry from one person to another.
Contributions are greatly appreciated to benefit this group, please consider donating a product, cash or service to help make this event a great success! To make a donation contact any HealthSPORT location or send an email to exec@healthsport.com.
The National Multiple Sclerosis Society is a non-profit organization and any donation you make will be tax deductible. A receipt for the item along with the necessary tax ID number will be given at the time of the donation. In addition, your generous donation will be acknowledged at our event and viewed by hundreds of Zumbathon attendees as well as HealthSPORT members.