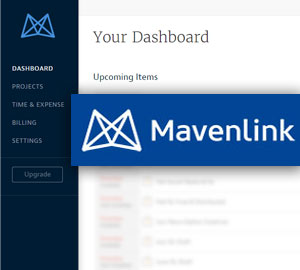 In our business, we are handling multiple companies marketing efforts. For each company this could include social media, newsletter, blogs and occasional campaigns. With so many projects to manage we have to have a system in place for keeping track of what needs to be done, when it needs to be complete and who's doing it. There are a ton of task and project management programs out there, but what has worked best for us is Mavenlink.
Mavenlink has three different subscriptions premier (try the free demo and contact for pricing), professional ($29 a month per user), teams ($19 per month for 5 users) and a free plan (see the small link at the bottom of the pricing page). No matter what subscription you decide to go with you will be impressed by the product. Mavenlink offers so many features, you never run out of something new to implement and start using.
The basic task management feature allows you to create project, assign user roles within each project, add in tasks and subtasks with start dates and due dates. You can also create templates for large, recurring projects. We use templates our social media projects and large newsletter projects, which makes planning and scheduling out these tasks quick and easy.
Mavenlink also offers time and expense tracking features, performance analytics, Quickbooks integration for invoicing and finance tracking, branding options and very helpful, 24/7 customer support.
If you're ready to get your task management under control and find out how much time and money you are spending on your recurring and one time tasks, try out Mavenlink. You can either give the free version a try or request a demo and trial of any of the mentioned plans. Let us know what you think.