An essential element of integrating search engine marketing management with strategic email marketing is much more effective when it is combined with other lead generation marketing programs. Once you have reached your core group online, how can you bring in more followers? One way businesses are growing their online marketing is by connecting their email marketing with direct mailing via postcards.
Using Postcard Mailing To Produce Prospects and Customers
Postcard direct mail marketing is one of the best-kept secrets of marketing. Consumers can be annoyed at the incoming commercial email, especially when it is perceived as 'junk mail'. Postcards will take 'junk' out of your 'junk mail' with a targeted message and attractive images, and delivered in the way that individuals need it – easy, fast, and direct. People do read postcards. Direct mail is becoming more and more relevant as part of the marketing mix. In the past, it was seen as an offshoot of the ad vehicles because it was sent en masse and did not attract attention. Using today's digital technologies postcards combine quality, color, and a variety of captivating images to draw in the reader and land the message.
It allows for personalization of messages that are unique to each segmented customers' needs and interests. The new technologies allow for more color and varied text than ever before, making branded postcard direct mail marketing an intriguing vehicle that produces leads.
Postcard direct mail marketing brings various qualities to the marketing mix.
Digital printing offers personalization and segmentation at a reasonable cost.
Among marketing options, direct mail can be uniquely tracked.
Postcards are inexpensive compared to other direct mail pieces and postage is usually included in the price of printing and distribution.
Generating Leads with Postcards
What does all this mean for you? In postcard direct mail marketing the average response rate is around 4%. That means a mailing to 1,000 people would create about 40 responses.
These 40 leads can produce a lot of business. A key point to know, in regards to the size, paper choice and color, above-average postcards will yield more responses than average, and the opposite is true for below-average postcards.
Use over-sized, 4-color postcards to increase readership and raise the response rate from your mailing. Test different graphics, headlines, and body content to see which combination brings in the best response rate for your business.
Focus on a brief message and the biggest benefit, and send postcard readers to your website for all the information they need. Keep the message short, yet intriguing, to pique the reader's attention and bring in prospects and potential customers.
Build a landing page to track your response rates. Using postcards to drive your audience to your website is the best way to increase traffic to your online marketing efforts. During your direct mail postcard marketing campaign, you would use a unique URL and landing page so visitors go directly to a page that complements the message on your postcard and also captures their email address for continued online marketing efforts.
Remember, a postcard is not to close a sale but to help with the pre-sale. Once you have the consumer's attention make sure you are very specific with your 'call to action'. Telling the reader what to do next will increase the response rate of the postcard..
You can track direct mail marketing campaign through the following ways.
Count Returned Pieces
As soon as your campaign launches, keep a designated spot for returned mail pieces, and make sure all staff members are well aware of this spot. No returned mail pieces should be disposed of until they are accounted for in your campaign results.
Track visits to the landing page
Since you have used a unique URL and landing page, you can see how many leads come in from your mailer. How many visited? How many signed up for your email marketing? Did you receive contacts in other ways like phone calls or hits on your social media?
Watch email subscriber numbers grow
The most useful information will come as new subscribers to your email marketing. These new audience members can now start a drip email campaign to learn more about your business or product, and continue to receive your information emails, discount promos, and sales letters.
Why is Direct Mail Still So Valuable?
It's personalized and focused.
Remember as a child getting a letter in the mail addressed to you? The thrill of reading your name on the envelope went down to your toes. The excitement as you tore into the mail was almost palpable. Now as an adult when we open our mailbox we hope there is something in there besides a bill. Receiving a letter addressed to the recipient that speaks to their pain points or solves a problem can give a bit of that thrill back into someone's day.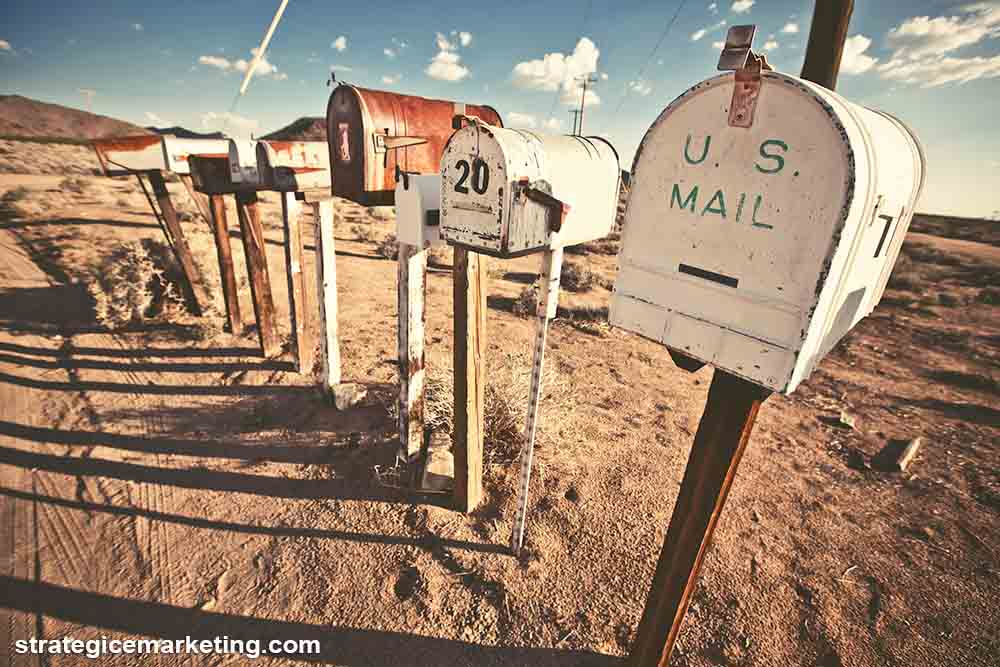 It can reach new people.
Have you ever been the new person in the neighborhood, school or job? Not only do you not know anyone, but no one knows you either. You have to put yourself out there to make new friends and find your place. Finding new customers is similar. You need to reach out and find people where they are. Purchasing a residential or business mailing list coupled with a direct mail piece will kick-off (or re-engage) a new marketing strategy.
Direct mail will complete a marketing campaign by pulling in offline prospects to online destinations. This creates email prospects that you can continue to sell to with your online marketing, which is essential in today's online marketplace. If you do not have a list, you cannot begin an email marketing campaign. The ROI of direct mail lies in its ability to reach new people and generate leads.