Strategic eMarketing has been selected for 2022 Best of Eureka Award in the Public Relations Agencies category by the Eureka Award Program.
Each year, the Eureka Award Program identifies companies that they believe have achieved exceptional marketing success in their local community and business category. These companies enhance the positive image of small business through service to their customers and community, helping to make the Eureka area a great place to live, work and play.
Various sources of information were gathered and analyzed to choose the winners in each category. The 2022 Eureka Award Program focuses on quality, not quantity. Winners are determined based on the information gathered both internally by the Eureka Award Program and data provided by third parties.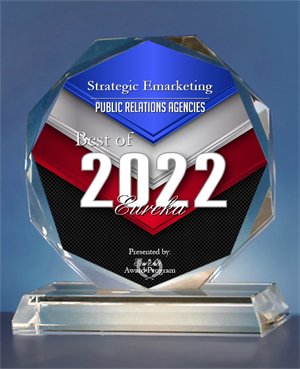 We are a leading digital marketing, advertising, and public relations agency catering to clients globally. Founded in 2010, we specialize in delivering marketing solutions that incorporate traditional marketing strategies, local SEO, public relations, and social media marketing. We leverage top-notch social media marketing and branding strategies to help you achieve your business goals.
We are a team of seasoned, skilled, dedicated, and highly motivated online professionals, aiming to comprehensively meet the distinctive needs and preferences of every client. Our services aren't limited to marketing, we also offer mobile app development, web design, video marketing, public relations, and multi-channel marketing programs.
"SeM keeps a forward-thinking mindset and adapts to market shifts."
We work to make the entire marketing process as simple, or as complicated, as you would like. You can be involved with as much, or as little, as you wish.
If you are ready to begin your Strategic eMarketing, let us know!