Writing and Distributing Press Releases for Your Business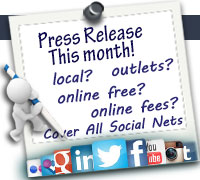 Press releases provide businesses a way to spread the good news about their organization and get exposure in local media outlets that isn't straight advertising. But your press release needs to get published before it can start to have a positive impact, meaning it needs to be written and distributed well.
To maximize the likelihood of your press release making the cut with local media, it needs to contain newsworthy information that is relevant and timely, not just about a sale. Including an unposed photo that relates to the news can also increase the likelihood of publication.
Writing a press release in the traditional journalism style can increase your chances of publication, meaning the content should include the most important information first. Whomever handles public relations for your company should ensure the primary questions are answered in the first couple paragraphs: who, what, when, where and why.
Try to keep your press releases concise — a page or two at most — and include a contact person that the media can call for more information or quotes. If you are using a PR firm to handle your public relations needs in Eureka CA, include its contact details instead of your business's.
Before you send it out, go over the information one more time to ensure every detail is correct, from the date and day of the week to the names and titles in the press release./
Once the press release is written and checked over, send it as a Word document to a contact person at each publication (look for these emails on the "Contact Us" page of a publication or call to get the appropriate address). You can also fax in press releases, but this adds an extra level of work to reporters who will have to retype the information. Make it as simple as possible for media outlets to use your information to increase the likelihood of publication.
After you've sent your press release to local outlets, you aren't done yet. There are several public relations websites that allow you to publish your press releases for free or for a minor fee online.
This is beneficial for a few reasons:
All the content you wrote will be available on your terms
You can often go back and make minor edits after it is published
Many of these public relations websites will include a backlink to your website if you include it in the text of the press release or in your author information (some will charge for this perk; others won't)
In the unlikely event that no local media outlets pick up your story, your press release will still be available online at several public relations websites. Additionally, you should also publish the news on your own business's blog. A PR firm can help you track the results of your press release distribution in Eureka CA, Humboldt County and beyond, so take advantage of this to see what works and what doesn't in your particular market.